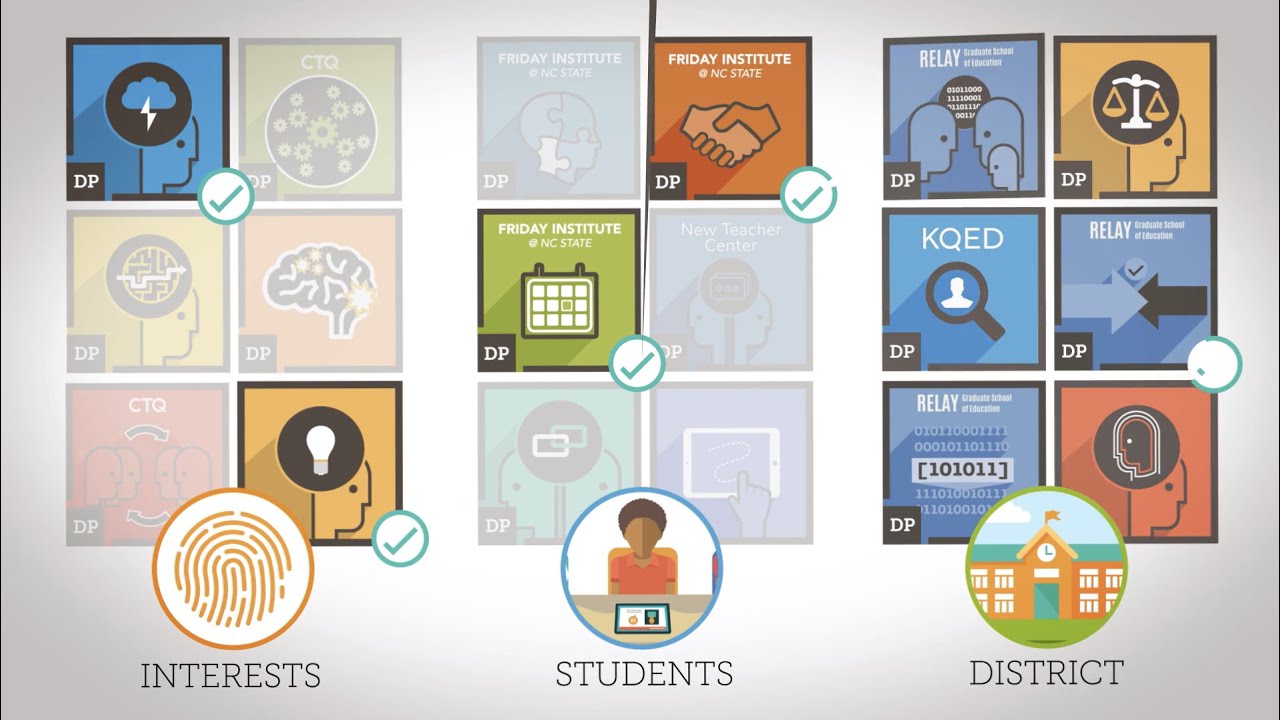 Technology has transformed the workplace. How we learn and recognize learning must also transform.
Individuals develop new skills while working and are seeking opportunities to be recognized for their professional growth. Research suggests that traditional frameworks and models for recognizing professional growth and providing professional advancement opportunities don't meet the needs of today's workers.
Micro-credentials provide a pathway to personalizing and recognizing professional learning. They allow employers to verify the skills their employees demonstrate, regardless of where and how they learned them.
Since 2014, Digital Promise has been building an innovative ecosystem of micro-credentials. We offer more than 450 competency-based micro-credentials on a wide range of research-backed skills. These micro-credentials are developed, assessed, and awarded by more than 50 partner organizations, ranging from institutes of higher education to non-profit organizations.
Micro-credentials are digital certifications that verify an individual's competence in a specific skill or set of skills.
Micro-credentials are a natural extension of the formal and informal learning activities individuals engage in every day. They empower individuals to drive their professional learning and give employers the tools they need to personalize learning for their employees and meet their broader goals.
Competency-based
Micro-credentials articulate a discrete skill to support professional practice and the specific evidence an individual must submit to demonstrate their competence in that skill.
Research-backed
Each micro-credential is grounded in sound research that illustrates how that competency supports positive professional impact.
Personalized
With more than 450 micro-credentials available in Digital Promise's ecosystem, learners can select the ones that are best aligned to personal goals or professional needs.
On-demand
Individuals can start and continue their micro-credential journeys on their own time and in their own ways.
Shareable
Micro-credentials can be added to your résumé and online profile and shared with current and potential employers.
Digital Promise has designed a framework to guide the development of each micro-credential. This framework ensures that each micro-credential:
Focuses on a single competency
Has a key method that is backed by research
Requires the submission of evidence
Includes a rubric or scoring guide
All micro-credentials earned on Digital Promise's Micro-credential Platform are Open Badges. Open Badges are:
Verifiable
Open Badges can be verified for authenticity by the earner and by those providing recognition for the badge.
Portable
Open Badges can be transferred between any Open Badge standard-compliant system without losing or mishandling any achievement data.
Controllable
The earner of the Open Badge can control with whom they share their Open Badge and in what systems it lives.
Individuals can earn micro-credentials in four easy steps:
Select
Select a skill you have developed or would like to develop.
Collect
Collect the required evidence demonstrating your competence in the selected area.
Submit
Upload and submit your collected evidence.
Share
Share your accomplishment once you have earned a micro-credential. You can download a shareable digital badge or share directly via social media or email.
How can you engage with us?
Micro-credential Development
Contact us for more information and prices.
Digital Promise supports organizations through the content development process to become micro-credential issuers.
We will host your micro-credentials, publicly or privately, on our nationally recognized Platform.
Micro-credential Pilot - starting at $13,000
Institutional Implementation Support:
Administration of professional learning needs analysis
Support for the identification of program goals, participating educators, and relevant micro-credentials
Support on program design and incentives
Technical support and development of communications assets
Learner Engagement Workshop: (for up to 50 participants)
Orientation to micro-credentials
Getting started with the Digital Promise Micro-credential Platform
Facilitated micro-credential selection
Structured collaboration with peers
Preparing for learning, implementation, and evidence collection
Evaluation and Reporting:
Administration of pre- and post-surveys
Data analysis and report on findings
Administrative feedback post survey
Platform Data Reporting: $1,000
(for up to 100 learners; additional $10/learner thereafter)
Gain insight into how your community of educators uses and is successful with micro-credentials on our Platform.
Custom visual dashboards are available. Contact us to find out more.
Assessment Fees
(Issuer may charge a fee to support the assessment of submitted evidence)
Individuals can pay per submission (prices listed on the Platform).
Organizations can prepay assessment fees in batches (includes processing fee).
Don't see what you need here? Contact us for specialized support and pricing.